Bear Archery Royale RTH Extra Compound Bow
$380.59
Compare
Product Overview
The Bear Archery Royale RTH Extra is an incredibly lightweight bow that is the perfect introductory compound bow for any young archer that will last for years to come. The draw weight starts at an easy to pull 5 pounds and can be adjusted up to a serious 50 pounds right alongside your young hunter. The draw weight can be easily adjusted from 12" to 27". All draw length and draw weight adjustments can be made using an allen wrench, removing the need for a bow press. Lightweight and easy to carry, with a super smooth draw cycle, the Royale offers a 75% let off and fires arrows at 290 feet per second.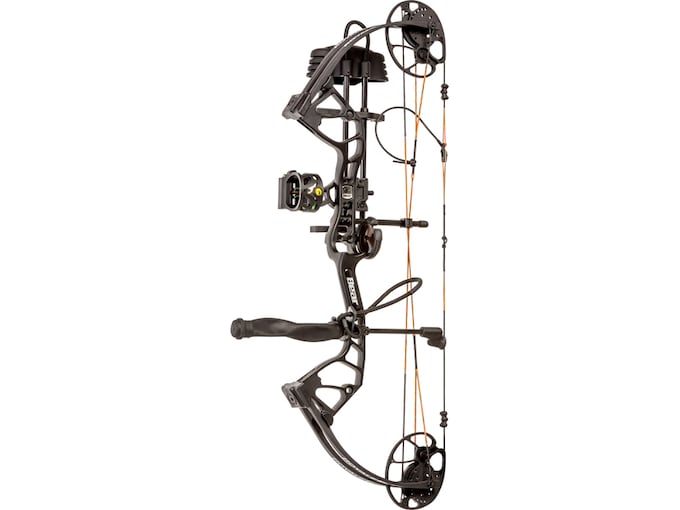 The EnduraFiber limbs offer lethal controlled power and the RockStops offset string suppressor eliminate noise and vibration. The Royale is the total package that offers ultimate versatility. The Royale comes fully equipped and ready to hunt with a Trophy Ridge Mist sight, 5-Spot quiver, whisker biscuit, fletcher archery no tie Peep, and a nock loop. Included is the Extra kit featuring 5 Trophy Ridge Wrath arrows precut to 27 with install inserts with 100 grain field points, plus 5 loose inserts, and a Trophy Ridge youth release.
Features
Perfect introductory compound bow for young archers
Easy to pull
Ultimate adjustability
12″-27″ draw length adjustments
5 pounds to 50 pounds peak draw weight
Extra kit includes five Trophy Ridge Wrath arrows and release with trophy ridge accessories
Product Information
Color
Realtree EDGE
Shadow
IBO Speed Rating
290 Feet Per Second
Weight
4.2 Pound
Hand
Left
Right
Brace Height
6 Inches
Axle to Axle Length
27 Inches
Let Off
75%
Minimum Draw Length
12 Inches
Maximum Draw Length
27 Inches
Cam Type
Dual
Minimum Draw Weight
5 Pound
Maximum Draw Weight
50 Pound
Country of Origin
United States of America
Delivery Information
Was the information on this page helpful?
Related products
Bear Archery Species EV RTH Compound Bow

$

410.90

Product Overview The Bear Archery Species EV is an evolution of the popular single cam bow with an an ultra-smooth draw cycle and impressive 80% let off. Tipping the scale at only 3.8lbs with its 30″ axle-to-axle and 6 3/4″ brace height, the Species EV is a compact, smooth, and lethal alternative for the hardcore …

Add to cart